Pioneer in
terms of digitization
Student Union Frankfurt am Main

"The growing shortage of staff
in the hospitality industry was the reason we chose the visioncheckout.
This has proven to be a good
decision: It allows us to open operating units that would otherwise have had to remain closed."
Gudrun Hartmann,
Manager Catering Operations, Student Union Frankfurt am Main
Whether breakfast, snack, salad bar or coffee. The visioncheckout is always available at the Student Union Frankfurt am Main. With 16 visioncheckouts for one customer, the roll-out at Studierendenwerk Frankfurt am Main was our largest roll-out in 2022 within 8 weeks.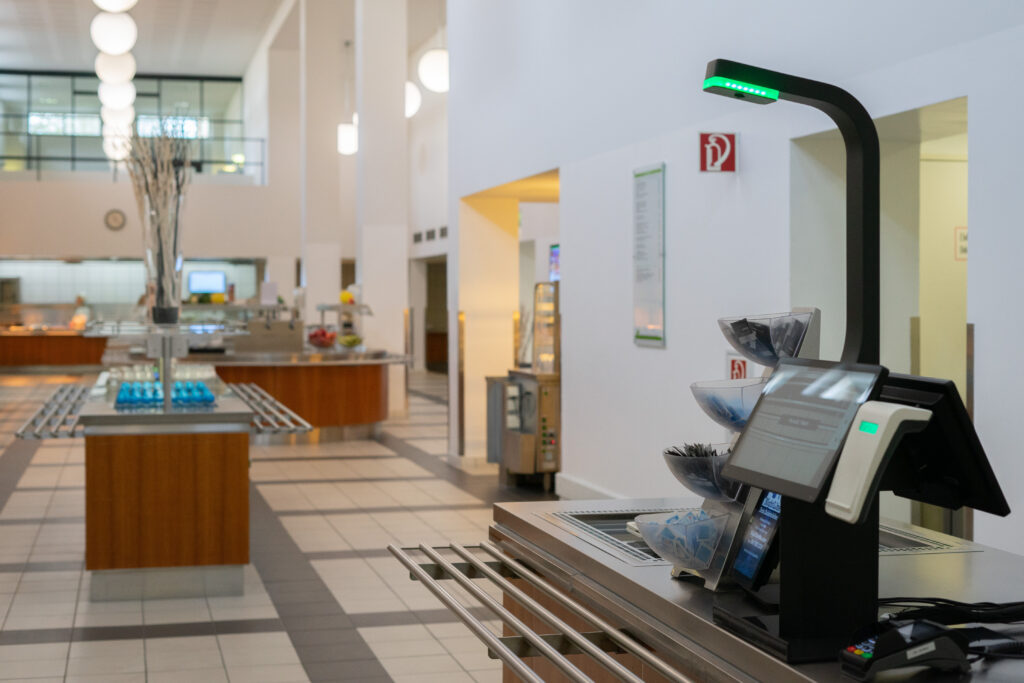 In the cafeteria Hoagascht about 800 meals are served at 3 counters per day. All three counters carry different dishes and each is staffed by a visioncheckout. This way, the staff at the serving counter has their hands free and can devote their full attention to preparing the dishes and providing service.

"For me, the biggest advantage with the visioncheckout is that I can deploy my staff more flexibly. Right now at breakfast, the person would do nothing but press the same button for 4 hours. There are better things to do! With the prevailing staff shortage, I simply can't afford it."
Ronnie Stark,
Manager Cafeteria Hoagascht, Student Union Frankfurt am Main

"The visioncheckout works very reliably. Teaching now takes a maximum of 5 minutes a day, so in relation to how much time we save, it's definitely worth it."
Amira Suljakonivic,
Manager Cafeteria DASEIN,
Student Union Frankfurt am Main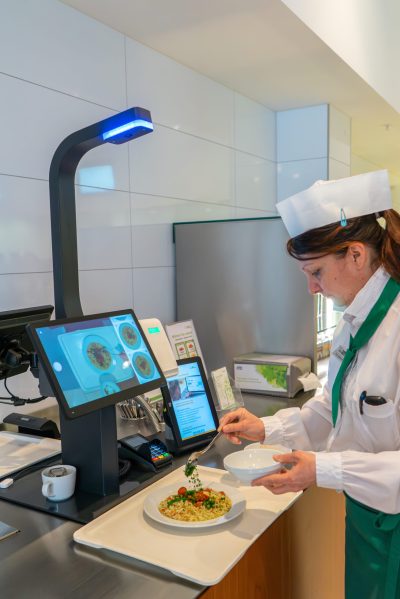 Thanks to the visioncheckout's gapless memory, it is sufficient to teach new meals only once. In order to also achieve error-free recognition for these dishes from the first payment process, Amira Suljakonivic teaches the risotto both with and without side dishes.
DASEIN cafeteria sells about 900 meals a day. The sustainable concept with regional and seasonal meals results in a very extensive offer, which is paid for at the visioncheckout.
Mensa Casino / Mensa Anbau Casino
In the dining hallt "Casino" and "Anbau Casino", 2000 meals are sold per day, therefore 4 visioncheckouts are in use here. The offer in these canteens consists of different daily meals, sides and desserts.

"In the Casino and Anbau Casino dining halls, I handle all four visioncheckouts at once. The built-in LED is the perfect tool for this. Should there ever be a problem, I am quickly on the spot. Mostly, though, the guests have already solved it themselves."
Marco Baotic,
Manager at the restaurants Casino and Anbau Casino,
Student Union Frankfurt am Main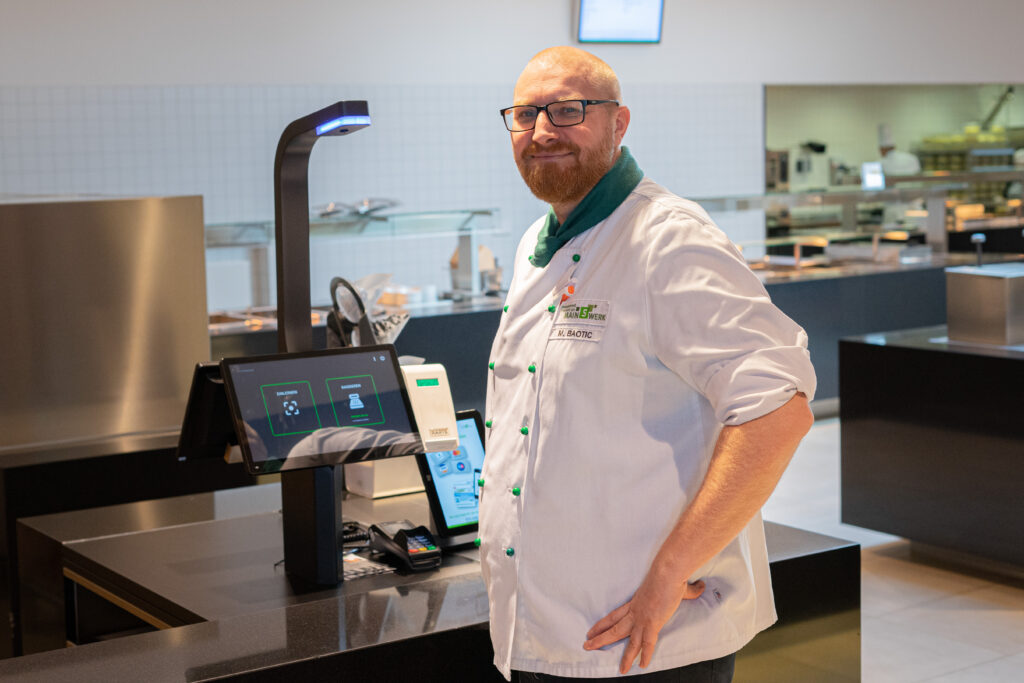 "To use additional supervision for the visioncheckout, we don't have the staff. That's why we turned on the alert tone, which indicates errors and canceled payments."
Bernd Wiedemann,
Manager Cafeteria Pi x Gaumen,
Student Union Frankfurt am Main
The Pi x Gaumen cafeteria sells around 1200 meals a day. To cope with the large rush at peak times, 2 visioncheckouts are in use here. The offer of the canteen consists of different daily meals, sides and desserts.